Sonic FD
was an Amiga game made by SEGA of Europe, which is a port of the game Sonic CD.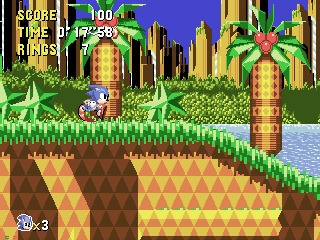 It was ported on May 11, 1994.
Layout changes
Even though Sonic FD is largely identical to Sonic CD, a few layout changes were made:
At the start of Palmtree Panic Zone 1, an extra ring has been added.
A trick from Palmtree Panic Zone 1 that had the secret pathway that ended in the Sonic-shaped hole with his dieing pose can be now used to time-travel.
The machine-generator from the past of PPZ 1 has

an Anton instead of a Kamemusi alongside it.
The loop that had a Future sign in it was replaced with a Past sign, and the Past sign alongside two monitors and three rings was also replaced with a Future sign (in PPZ 2).
Amy acts differently: if you run she will latch on you, but if you stop she will stand. In the original Mega CD version, she will chase you even if you stand.
At the start of Collision Chaos Zone 1, Amy has a different, lower-quality "eek" voice and also has a static sprite.
A  curved room from the past of CCZ 1 has two bumpers instead of one.
The spikes at about the end of Collision Chaos Zone 3 are vertical instead of horizontal.
Sonic drowns in after 35 seconds, which is about 5 seconds more than in the MCD version. This was made because of the slightly slower speed in the port (About 93% out of the MCD speed)
An amenbo was added between the location with two springs.
The Sonic panel from the 512 beta is back in Quartz Quadrant.
Graphic changes
The colors are slightly desaturated.
Sonic's pallete has been changed from 4 shades of blue to 3, and his head has been redrawn.
Amy's palette also has only 3 shades of pink.
Control changes
The speed of the gameplay is about 93% because of limitations. Limitations are because FD stands for floppy disk, while CD stands for the discs we use today now.
The sound when Sonic does a spindash-super peel out is the regular spin sound.